Shoes, Books, and Birthdays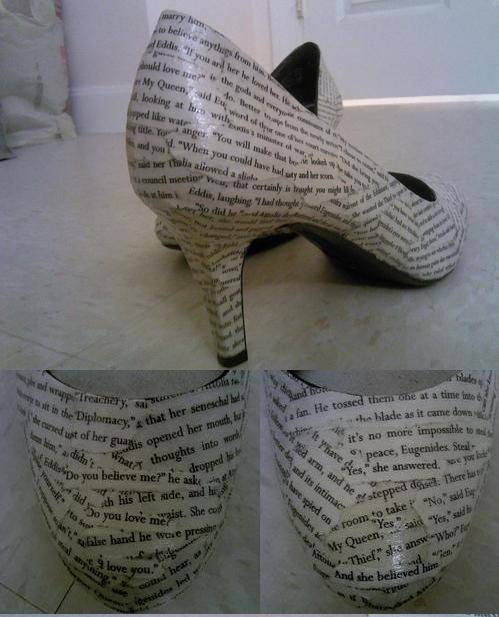 The Lost Art of Dress by Linda Przybyszewski is a new book about the fashions of yesterday and today. She thinks that our obsession with shoes is a symptom of narcissism. I disagree!
Today I am wearing Hello Kitty sneakers and I think that shoes are an easy way to bring joy to people!
This year is the 40th anniversary of the Japanese icon and there is actually a convention this fall, the first to celebrate the cat with no mouth, who has risen from coin purse to a supposed emblem of "happiness, friendship, and sharing".
This is a roundabout way of sharing these bookish shoes. Some are DIY for you crafty types.
Tove Jansson's 100 birthday is coming up, on Aug. 9. Come to the library for your Moomin needs. And if you were wondering if there are Moomin shoes, of coure there are!
Posted by kathryn at
02:54 PM
Summer Reading
Does Summer Reading have to be one size fits all? As a library school student I was pretty jazzed to learn Ranganathan's laws of library science, especially "Every book its reader and every reader her book". So freeing! We don't all need or want the same things and surprising as it seems, almost any book or activity has its fans.
I liked reading Teen Librarian Toolbox's Summer Reading Program spin on Ranganathan's laws. There are a lot of great ideas; it's not just about Pizza Hut coupons anymore!
Confession time: I never participated in the Summer Reading Program at my library. Sometimes we signed up, but structure and summertime were not two great tastes that tasted great together. However, I did spend the summers reading, in addition to other edifying activities such as making friendship bracelets and watching game shows and '70s reruns with my best friend.
How's your summer reading going?
I know a lot of our SSL Volunteers are doing some great summer reading and writing because we've had a busy summer of book reviewers and I love reading their reviews, whether it's The Fault in Our Stars or Catcher in the Rye.
Posted by kathryn at
04:03 PM