The Sesquicentennial
We are already into the 150th anniversary of the Civil War. Here are some good places to track who happened then:
Harpers Weekly issues 1961-1965
Smithsonian Timeline
and what will happen now:
National Park Service Civil War Page
Here at the library we have an excellent American History collection in our reference room, many circulating Civil War histories and memoirs, and this online database Issues in American History which is available to you at home. Just put in your library card number.


Quick catch-up, in case you thought it all started with Fort Sumner:
December 22nd 1860 South Carolina legislature voted Secession (text from Harpers Weekly)
January 9th Mississippi declared Secession
January 9th North Carolina artillery fired on Star of the West, a merchant vessel supplying Fort Sumter.
January 10th Florida
January 11th Alabama
January 13th Mississippi artillery fired upon the Mississippi riverboat A.O. Tyler
January 19th Georgia
January 26th Louisiana
January 29th Kansas admitted to statehood as a non-slave state.
January 29th-30th Gen. Nathanial Lyons began the march from Fort Scott Kansas to St. Louis
February 1st Texas
February 8th-9th CSA formed by the states that had declared secession.
March 4th Abraham Lincoln sworn in as President of the United States
March 6th CSA called for 100,000 volunteers
April 12-3th Fort Sumner bombarded, surrendered
And on the 19th, a mob in Baltimore, then the 4th largest City in the US, stoned, and fired on, Union troops heading to Washington.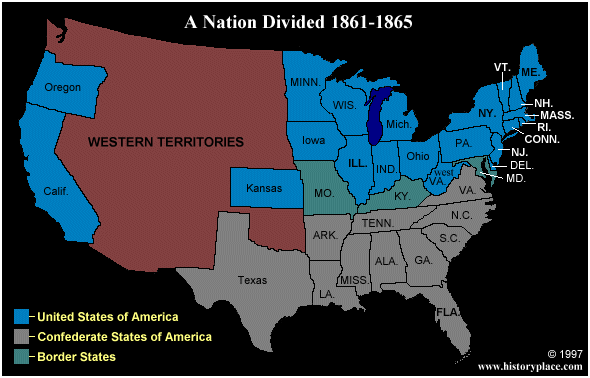 Posted by library at January 31, 2011 02:54 PM